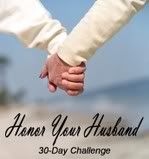 I just had to participate in this wonderful challenge, courtesy of Christine at
Fruit in Season
.
As easy as it is to know in my head how important it is to honor and respect Travis, it's much harder to put that knowledge into practice on a daily basis. And while I'd like to think Travis feels honored and respected most of the time, the truth is, I fall short in my efforts more often than I'd like.
What do our husbands need from us? What does honor look like? Christine gave some great answers to this question and I'll try to add a few more. The best reference I have is my own husband, so here are a few things I've learned make him feel honored and respected:
1. When I whole-heartedly support his goals for our family, specifically financially. That means, not only that I understand the value of good stewardship, but I act accordingly, staying within our budget, discussing purchases with him, telling him what I buy on a given day and entering the amount into our budget sheet right away.
2. When I talk to him without sarcasm. I mess this one up way too often! I find it so much easier to make a point using sarcasm, but it is so ugly and only creates defensiveness.
3. When I make an effort to give him down time or free time, without asking for help with the kids 24/7. Along with this, he appreciates it when I don't make him feel guilty for taking that free time.
4. When I cook a delicious meal for him, something I know he likes.
5. When I "brag" on him, both in front of him and when he's not around.
6. When I pursue quality time with him, and for him that means, doing something fun together that we both enjoy.
7. When I make the effort to have good relationships with his family, biting my tongue, thinking before I speak, and creating peace with an attitude of grace and humility.
8. When I show genuine interest in his work, hobbies, struggles, thoughts, desires, all of who he is.
I'm sure there are many more I could add to this list that are not coming to my mind at the moment, but the point is, I know what makes him feel honored and respected, now I need to go about prayerfully increasing those things in our relationship.
So, my goals for this week are:
1. Don't use sarcasm!
2. suggest a free time activity for Travis and create the opportunity for him to do it.
3. Say good things about him to others, in front of him and when he's not around.
I'll keep it at three this week for more focus. This will be great accountability when I report in next week!